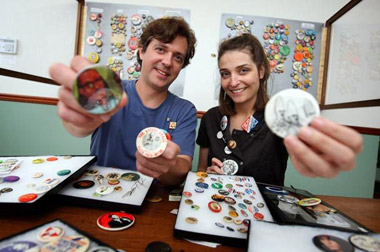 Hello! Thank you for visiting our on-line Button Museum!
Since pinback buttons were patented in 1896, people have found many ways to express their life events through buttons.  We created the Button Museum to show how people commemorated noteworthy times in their lives by creating and collecting these wearable mementos. The words, artwork, printing style, color, and size were the final result of a vision they wanted to communicate or be a part of.
You are welcome to visit Busy Beaver Button Co.'s factory to view the Button Museum in person.   We also happily accept button donations!
Please contact us if you have something to add or find any missing information.  Our goal is to make this as complete and concise as possible, while piquing your curiosity about the times these buttons represent.
We look forward to hearing from you.
Thank you,
Joel and Christen Carter
(brother/sister button making/collecting duo)
The Button Museum
3407 W. Armitage Ave.
Chicago, IL 60647
OPEN: Monday-Friday 10-4 or by appointment.
____________________________________________________________________________________________________
A big THANK YOU to Ted Hake. Who founded Hake's Americana, where you can find an amazing selection of buttons (and other stuff!) for your collection. You will be hard-pressed to find anyone who knows more about button history than Ted! He also started a site to sell some buttons tedhake.com, hundreds and hundreds for sale!
To connect with other button collectors, we belong to the APIC. We suggest you join, too!
Website made by Michael Kostal. 
 
The Button Museum relies on interns and volunteers, without them this wouldn't be possible. If you'd like to volunteer, contact us at buttonmuseuminternship@gmail.com.
Thank you to our current and past interns and volunteers:
Abby Tang, Adam Prestigiacomo, Adam Widera, Alexandra McGee, Allyson Leckie, Amy Villablanca, Andi Altenbach, Andrea Schmitz, Angela Gates, Ashley Clay, Ashley Servis, Austin Nord, Bekah Leidenfrost, Brenda Foster, Brendan Cole, Briana Blanchard, Candice Conner, Carly Faison, Carly Schanock, Cassandra Gonzalez, Chaundria Campos, Chelsea Clark, Chelsea Rounsley, Cheyenne Flotree, Christain Hartman, Christina Cornejo, Christina Miskey, Christy Karpinski (previous Archive Manager and Internship Coordinator),  Corinna Fabre, Craig Klein (previous Archive Manager and Internship Coordinator), Crystal Schmidt, Danielle Oakes, Danielle Trujillo, Dianne Bohach, Dominique Fuqua, Dylan Byrne, Elizabeth Bass, Elizabeth Moore, Elle Koshiyama, Emily Minehart, Emily Muszynski, Emily Snyder, Emily Teachout, Emily Wells, Emma Weinberg, Eric Bryan, Eric Jankowski, Erin Pappas, Fallon Pfeiffer, Faye Mazzia, Frances McAdam, Grace Lehner, Hayley Saust, Heather Brown, Heather Lanctot, Hillary Freund, Hope Hills, Isabel Wu, Jacob Spitz, Janelle Breedveld, Janette Burger, Jason Leyk, Jenifer Hoffman, Jenn Parent, Jessica Powell, Jessica Walker, Jill Wiercioch, John Goldsworthy, Joseph Magnelli, Joseph Wright, Joy Feagan, Kahlia Vaillancourt, Karlen Kane, Karlayna Kern, Kathryn Eminhizer, Katie Schmitt, Kaylee Osowski, Kelly Donovan, Kelsey Karstin, Kerri Gonzalez, Kerstin Carson, Kevin Strickland, Kim Summers, Kirsten Lorenzen, Krystal Melendez, Kyle Wolfe, Lacey Banks, Lauren Brooks, Lauren Weidlich, Leni Matthews, Linta Kunathuparambil, Lucy Ross,  Lyndsey Silveira, Manee Olson, Marian Ekweogwu, Matthew Heichelbech, Maxine Pavnica, Megan Dunn, Megan McCarthy (previous Archive Manager and Internship Coordinator), Michelle Wu, Mike Joseph, Miranda Villesvik, Nada Abdelrahim, Natalie Koziar, Nels Clarke, Nicole Huff, Noelyn Gonzalez, Parker Sarra, Peggy Hanafin, Rachel Esser, Rachel Holt, Rachel Thompson, Raquel Matta, Raquel Mendelow, Rebecca Whelan, Regina Smith, Rhonda Cloud, Robert Sarwark, Rose Spagnoli, Rosemary Parker, Ruth Slagle, Ryan Tolnay, Sally Conkright, Sarah Bolton, Sarah Nagle, Sarah Padilla, Shalia Wynn, Sharon Eliason, Stacy Joy, Staci Stanton, Tara Hoyt, Taryn Mason,  Tim Hagemeister, Trevor Levasseuer, Zaray Buenrostro, Zoe Nash, Zoë Spahlinger